Concert Baltic Sea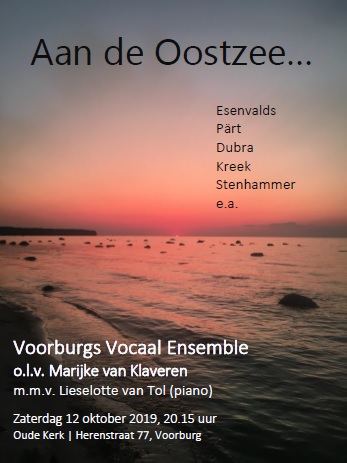 Set sail for the Baltic Sea! Join the Voorburgs Vocaal Ensemble on a musical journey through the countries of the Baltic Region.
The concert
On Saturday, October 12, the Voorburgs Vocaal Ensemble, led by Marijke van Klaveren, will present a varied program of works by composers from the Baltic Sea, from the mid-16th century to the present.
The concert will take place on October 12, 2019 at 20.15 in the atmospheric Oude Kerk of Voorburg (Herenstraat 77, Voorburg.)
Tickets are available in advance for € 15.00. You may order tickets until October 9 via bank transfer (account number NL23INGB0681167459 t.n.v. the Voorburgs Vocaal Ensemble), including your name, address and the number of cards. Tickets will be a available for € 17.50 at the door. The entrance ticket includes a post-concert drink.
The program
There is a vibrant choral culture in the countries around the Baltic Sea as evidenced by the vast number of amateur and professional choirs, as well as the robust quantity of compositions which have emerged from these countries. Particularly in the Baltic states (Estonia, Latvia and Lithuania), a large number of prolific composers are currently active. Our musical survey reflects the richness of choir repertoire from all style periods.
Our aural journey begins in Poland with a 16th century setting of Psalm 1 by Waclaw Szamotul, followed by the Kyrie from Missa Pachalis, by 17th century composer Grzegorz Gerwazy Gorczycki. Next, a pair of deeply spiritual works, Eripe Mei and Miserere Mei, by 20th century Latvian composer Rihards Dubra. Eriks Ešenvalds, "one of the most sought-after composers working today", completes our Latvian layover with the glorious 7-voice Magnificat and Nunc Dimitis.
After Latvia, we visit Estonia with an early and a late 20th century piece by Cyrillus Kreek (Taaveti Laul No. 104 from 1923) and Arvo Pärt (Magnificat from 1989).
Via the eastern part of the Baltic Gulf we continue to Russia with one of Shostakovitch's poems from Opus 88 from 1951 (Smólkli zálpy), and finally to Sweden and Finland. We turn back the clock with Wilhelm Stenhammer three Swedish "choir tunes" from 1890, then return to the contemporary era with Finnish composer Jaakko Mäntyjarvi's two tonal settings of Shakespearean text.
The program concludes with recent compositions from the Baltic states. Cantate Domino by Vytaustas Miškinis is exported from Lithuania, and from Latvia, The Earthly Rose by Ešenvalds. This last piece is accompanied on the grand piano by Lieselotte van Tol, who will also perform Chopin's Nocturne Op. 72 No. 1 during the concert.
Our Baltic tour offers varied views of the diverse musical landscapes of Northern Europe.
We are delighted to present this unique program and look forward to seeing you at the Oude Kerk on the 12th!